Cross Business Sector
Regulated financial services, professional firm and outsource service providers can all use the power of GRC-Maestro to monitor, manage and record their compliance.
Firm Size
From start-ups to firms with complex operations across multiple jurisdictions, GRC-Maestro scales to fit your needs.
Multi-Jurisdictional
GRC-Maestro allows firms to automate their Governance, Risk & Compliance across multiple jurisdictions.
GRC PLATFORM
The GRC-Maestro Platform records, checks and reports on all your compliance requirements: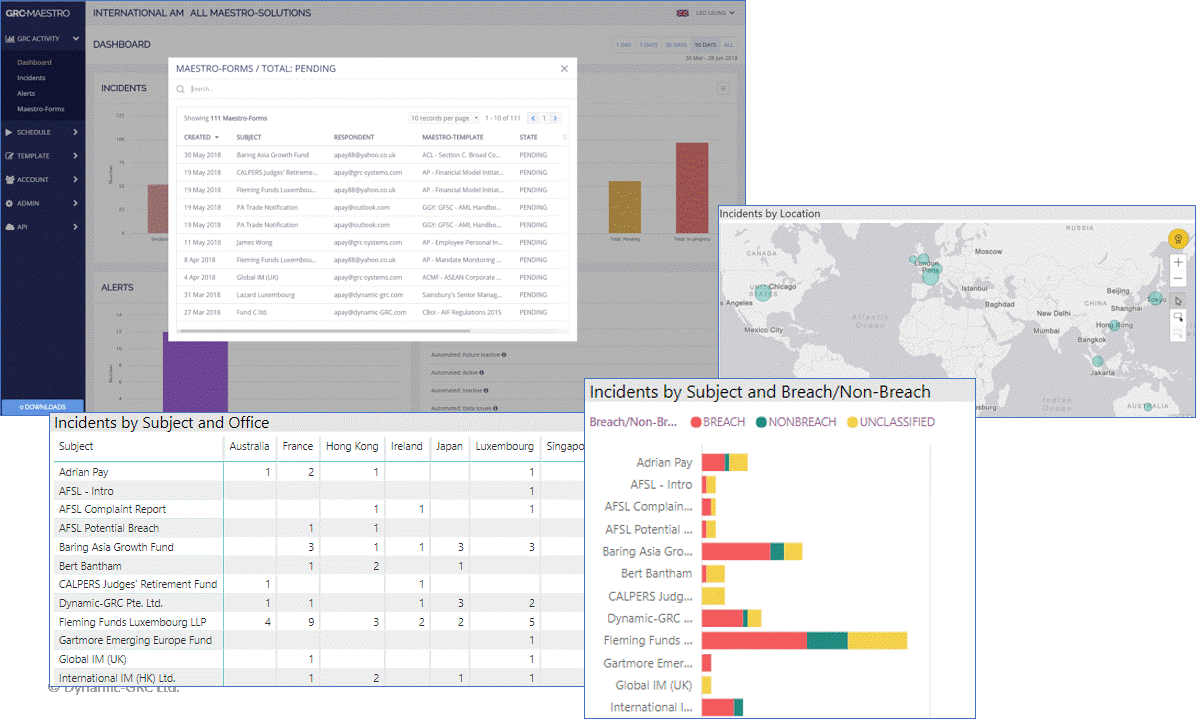 KEY FEATURES
Make sure you have the records to prove your compliance, verify your compliance, manage exceptions to resolution and produce status reports for management.
Learn More
GRC Dashboard
Oversee your Governance, Risk & Compliance control environment with a powerful, real-time, dashboard.
Identify Maestro-Forms sent to Respondents and issues relating to internal controls or laws, regulations and contracts.
GRC Case-Manager
Ensure all potential rule issues/breaches are investigated and resolved.
The GRC Case-Manager maintains a full audit trail of actions taken, including attached documents.
Automated Rule Checks
Rules checks can be written against GRC-Maestro data inputs to automatically identify potential rule breaches.
All flagged potential rule breaches launch the GRC Case-Manager.
Management Information
All the data recorded in GRC-Maestro can be used in business intelligence tools for powerful management reporting.